About Us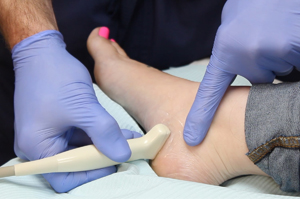 Thomas Podiatry and Associates employs five highly trained physicians in all phases of podiatric medicine and surgery and provides full diagnosis and treatment services for conditions such as:
Sports Injuries
Trauma
Diabetic Foot Conditions
Wounds
Geriatric Foot
Pediatric Foot Deformities
Heel Pain
Bunions & Hammer Toes
Fungal Nails
Ingrown Toe Nails
Utilizing the latest and most advanced surgical and nonsurgical techniques, our doctors are able to treat patients with highly effective, minimally invasive treatments, including: endoscopic procedures, ankle arthroscopy, neurogenic therapy, biosensor diagnostics, radio frequency neuroablation for neuromas, platelet-rich plasma injections, the mini-tight rope bunion procedure, and flat foot surgery.
At Thomas Podiatry and Associates, we believe that prompt diagnosis, early intervention, and prevention are essential for the care and treatment of your foot. Your chosen doctor of podiatric medicine is dedicated to providing professional services that are highly personal, comfortable, and convenient.
We have 4 offices located throughout the Eastern Shore including, Salisbury, MD, Cambridge, MD, Crisfield, MD, and Ocean City, MD. Our offices offer digital gait analysis, diagnostic ultrasound evaluation, fluoroscopy x-ray imagery, peripheral arterial disease (PAD) testing, and provide diabetic shoes for qualifying patients. All offices are handicap accessible.
We also have an Ambulatory Surgical Center (ASC) on-site in our Salisbury Location. If you need podiatric surgery, we'll take care of you here and not at a third party surgical facility.
Our Mission Statement:
The physicians and staff of Thomas Podiatry & Associates are dedicated to using the latest research and most advanced technology to deliver exceptional podiatric care to people throughout the Eastern Shore and adjacent areas.
It is our mission to passionately pursue the health and well-being of our patients by providing the highest quality medical and surgical care in a safe, effective, and efficient manner by utilizing our culture of exceptional service and state of the art technology.
Our services, whether preventive care or corrective surgery, have earned excellent recognition and steady growth for the past decade. At Thomas Podiatry & Associates, we believe that a doctor of podiatric medicine and patient become a team for treating an individual's feet. Our physicians spend most of their time listening in order to understand your concerns and responding with the best treatment options for you. With the help of our professional staff, they also follow up to make sure that pain is relieved, problems are resolved and your health improves.
We also want our patients to be informed about podiatric problems and treatments, because informed patients make better decisions about their health and well-being. Our practice is working together to realize a shared vision of uncompromising excellence in podiatry.
To fulfill this mission, we are committed to:
Listening to those we are privileged to serve.
Earning the trust and respect of our patients, our profession and our community.
Exceeding your expectations.
Ensuring a creative, challenging and compassionate professional environment.
Striving for continuous improvement at all levels.
To this end, it is our goal to operate this organization in accordance with all applicable laws and regulations and to ensure availability of necessary facilities, supplies, nursing, administrative and clerical staff with the technical expertise to meet the needs of our patients so they can achieve and maintain a state of both physical and mental wellness.
To learn more about our podiatric services, please contact us at 410-749-0121 today or click here to schedule an appointment.